What a week! With the generous financial support of SumOfUs members we were able to take our protest against TTIP to the next level.
On Wednesday, it started at the European Commission. Activists from all across Europe hand-delivered 3,263,920 million signatures against the dangerous trade deal.
And it really was from all across Europe. I am so grateful that SumOfUs members pitched in to help activists from Eastern Europe be part of this one-of-a-kind delivery: Their energy was truly inspiring!
https://s3.amazonaws.com/s3.sumofus.org/images/ECI_action_shot_optimized.jpg" alt="Stop TTIP activists just before petition delivery" class="CToWUd a6T" tabindex="0" />
This is me in the middle! To my right: Jan from the Czech Republic. To my left: Raluca from Romania. Her message: "The European Commission accepting our 3 million signatures proved to me once again that if people stick together for a cause they believe in, everything can be accomplished."
While negotiators are preparing for the next round of TTIP talks, we made sure our concerns about the dangerous trade deal were heard far and wide: News outlets all over Europe reported on the largest European Citizens' Initiative ever.
Do you recognise Raluca in this article from the EU Observer?
https://s3.amazonaws.com/s3.sumofus.org/images/EU_observer_TTIP.png" alt="Raluca and other Stop TTIP activists in the EU Observer" class="CToWUd a6T" tabindex="0" />
Even the police were on our side. After we handed over the signatures to a representative of the European Commission, an officer congratulated us on the great action -- he doesn't want to see public services threatened by a massive corporate power grab either! 
https://s3.amazonaws.com/s3.sumofus.org/images/Signature_delivery_Brussels.jpg" alt="petition delivery to a representative of the European Commission" class="CToWUd a6T" tabindex="0" />
Bummer: This is only a fake Juncker to my left. To his left: A real representative of the European Commission.
Then, on Saturday, people-power struck again. A whopping 250,000 citizens marched on the streets of Berlin to protest against secret trade deals. Thanks in part to SumOfUs members chipping in we were able to reach more people than we'd have imagined. Every major news outlet in Germany reported on the demo -- the head line "Alle gegen TTIP", or everyone against TTIP, ran in one of Germany's biggest newspapers.
If politicians and business leaders hadn't realised this before, they sure do now: The people of Europe are not backing the dangerous TTIP!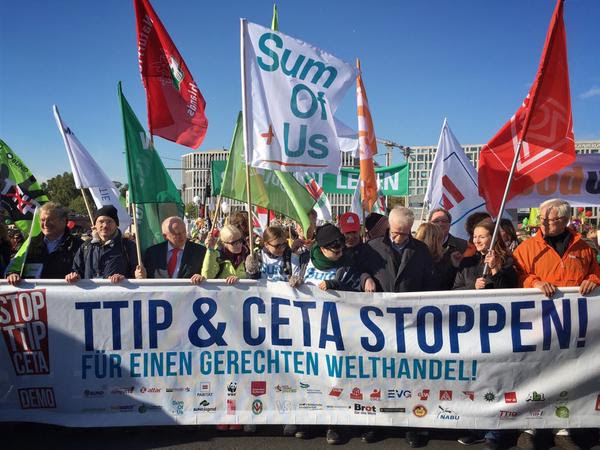 https://s3.amazonaws.com/s3.sumofus.org/images/SumOfUs_flag_TTIP_demo.jpg" alt="SumOfUs at the big demo against TTIP and CETA in Berlin" class="CToWUd a6T" tabindex="0" />
TTIP was meant to be a shoo-in, but thanks to the support of the SumOfUs community we've helped to build a one-of-a-kind movement. With such massive public opposition, politicians are realising that backing TTIP comes at a very high cost.
If we keep up the fight, we can defeat this dangerous trade deal.
Thanks for all you do,
Wiebke and the team at SumOfUs 
P.S. If you're able to, could you donate so we can keep fighting secretive trade deals?
**********
More information:
'Stop TTIP' activists hand EU 3mn signatures, EU Observer, 7 October 2015 
Angela Merkel surprised by massive protest march against TTIP in Be..., Business Insider, 11 October 2015
Alle gegen TTIP, Süddeutsche Zeitung, 10 October 2015 (in German) 
Coalition website for the ECI Stop TTIP
http://act.sumofus.org/o.gif?akid=14412.6529919.yIc13n" class="CToWUd" /> 
SumOfUs is a worldwide movement of people like you, working together to hold corporations accountable for their actions and forge a new, sustainable path for our global economy. Please help keep SumOfUs strong by chipping in $3 .
Have a great idea for a SumOfUs campaign? Start y